Greetings Abōd Shelters® Friends!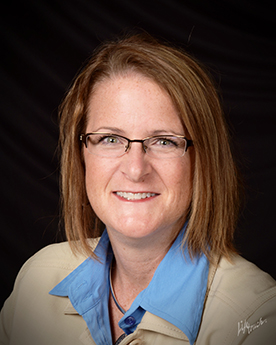 Michelle Rothfus, Project Coordinator Abōd Shelters®
Once upon a time, a chance meeting ignited a powerful purpose. On a trip to Soweta, South Africa, Doug Sharp, seasoned architect, experienced the extremes of poverty but was moved by the pride one woman showed in her shack. As she unlocked the padlock that connected the crooked door to her home, Doug could already see into her one room home through the slats of wood and metal making up the walled structure on the outside.
He smiled and accepted the invitation in. Sparse with only the necessities including a mattress, a small table with a few dishes and a couple of worn rugs on the dirt floor Doug sensed the pride the woman had in her home.
Design Challenge
Doug returned to the US and on behalf of BSB Design, Inc. accepted a challenge of designing a home for a family that could be built in one day, for as little as possible that could be shipped anywhere in the world. The project began with employees from BSB Design's offices throughout the country attending brainstorming sessions and design charettes. Program goals included ease of construction, durability, security and design integrity. Teams developed solutions of all shapes and sizes using some of the most technologically advanced materials on the market. A simple yet sound design, defined by its use of graceful arches, rose above the rest as the best solution.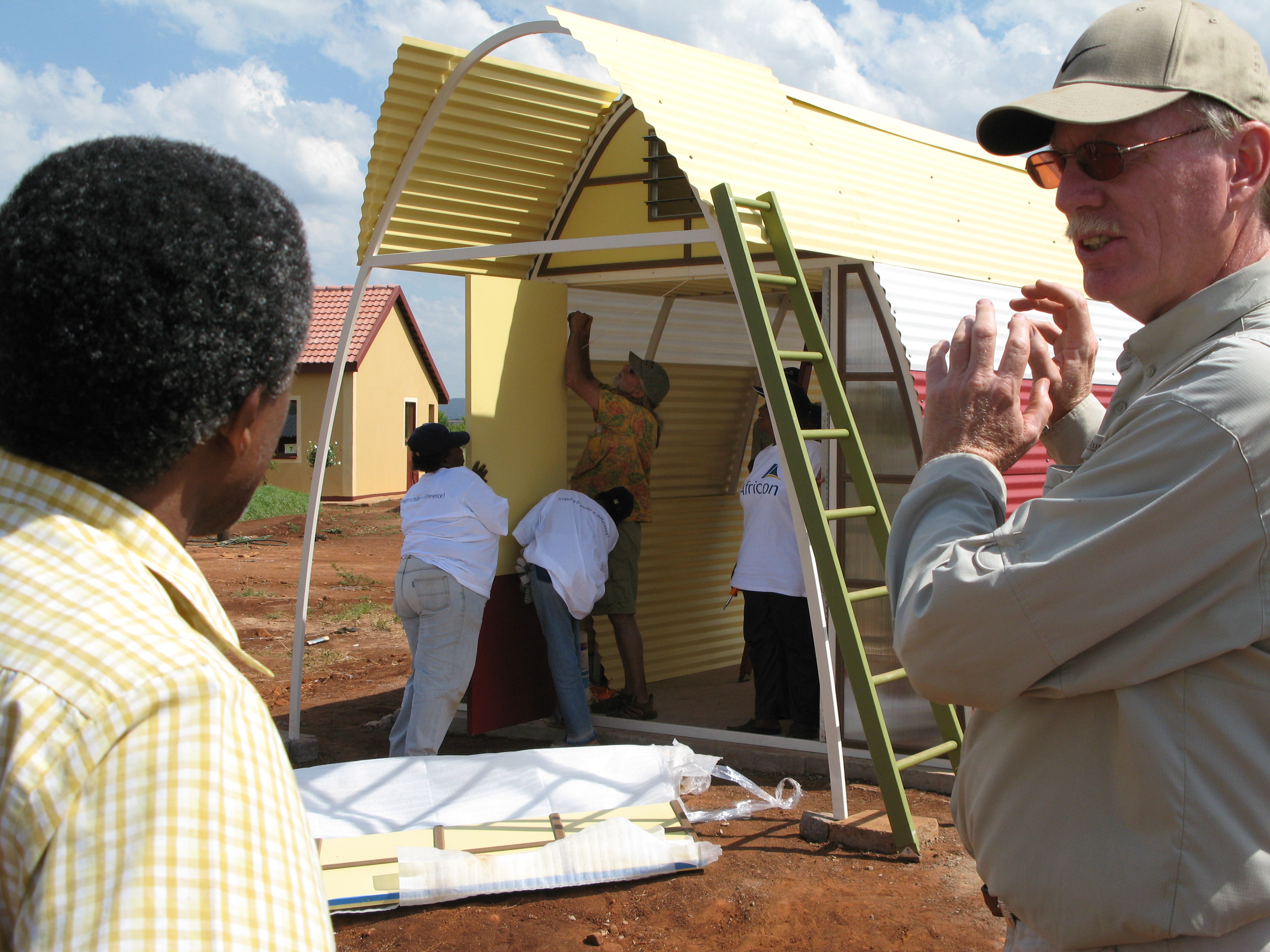 Jerry Messman (on right) Retired Designer with BSB Design, Inc. speaking to housing officials during the first Abōd Shelters® prototype build in South Africa in 2006.
The Winning Design
Abōd lead designer Jerry Messman located in the BSB Design, inc. office in Tampa, FL, drew inspiration from the Catenary Arch, an organic shape found throughout nature. The innate strength of the arch is paired with structural steel and other high-quality components in a marvel of modern engineering, at once highly technical yet impressively simple to build.
The winning design from BSB Design, Inc., which ultimately became known as Abōd, is now being manufactured in South Africa and can be shipped anywhere.
Manufacturing in South Africa
Jacques and Lee-Ann Hammer, Abōd Shelters® Manufacturer located in Johannesburg, South Africa went through an optional but rigorous 2-year process of testing the materials and the design through the South African Government to get their housing certificate. In addition to the many other ways they can be used the certificate allows the Abōd to be legally used as housing in South Africa.
Read how this young couple, through being drawn to a higher calling, met Doug Sharp and became involved as Abōd Shelters® Manufacturers in Johannesburg, South Africa: 'Manufacturing Abod Shelters is Higher Calling for South African Couple'.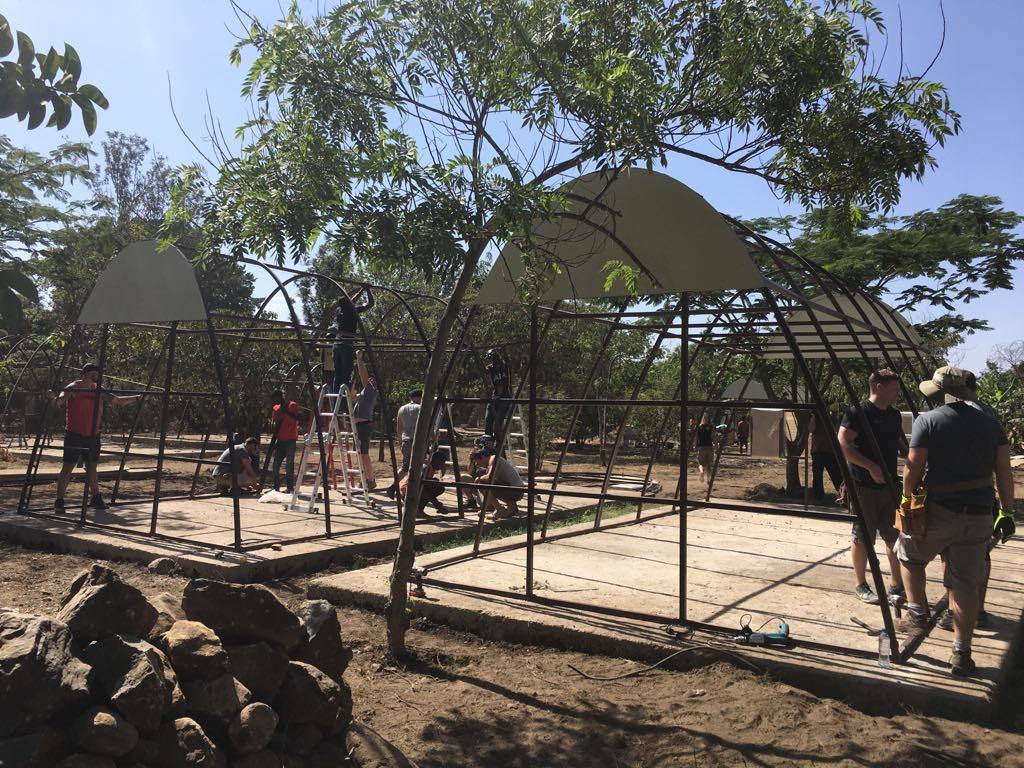 Abod's being built on the STEMM Campus for teachers and workers with the help of Ty Pennington. #TyAbodBuild
Kicking Off the New Year in Tanzania
Several Abōd Shelters® projects have already been completed in Africa with one finishing up this week in Tanzania; 'Ten Abods to be Completed in 10 Days in Tanzania with STEMM and Ty Pennington.' They are being built for teachers and workers in the local villages. In addition to the original 10, another Abōd will be built to be used as a Birthing Center with the goal of reducing the number of women that die every year giving childbirth. This is a really big issue in Tanzania as many women and babies could be saved during pregnancy and childbirth with clean and functional facilities and progressive education for the local midwives. Be sure to follow our Facebook page to view images of the build as they come in!
Flexibility of Design
Abōd homes are not only highly functional, sustainable and can be built in one day, they are often lower in cost versus standard construction. Natural light, cross breeze and open loft spaces provide universally enjoyable comforts. The basic shell is included, with add-on options (see right). Architects at BSB Design, Inc. created Abōd with flexibility in mind, so there is no lack of functionality or comfort, despite the price.
Options Include:
Different sized windows
Sliding glass door verses conventional door
Kitchen sink, shower tray, plumbing consumables
Washing line
Solar light kits
8-litre hot water steel boiler
Shipping Outside of Africa
Recently, we have received many inquiries from individuals in other areas of the world that are interested in purchasing one Abōd for private use. We are grateful individuals are interested but the challenge is that it is very costly to ship just one overseas from South Africa. Depending on fuel prices it could cost an additional $3500 plus custom and clearance fees along with transportation from the port or airport to the individual's location. Until we have manufacturing available in other areas, it would be much more economical to send an entire shipping container full to one location. While our goal is to set up manufacturing all over the world to use local labor and make Abōd as cost efficient as possible, we're still in the beginning stages. With your support, we'll grow our relationships, connect with additional partners and complete projects to contribute to solving the world housing crisis.
How can you help?
Partner with us or provide an introduction to a potential partner. We can make a greater impact working together than separately. We have been able to build homes, dormitories, medical buildings and classrooms as a result of working together. Reach out to Abōd Shelters® so we can partner and make a difference together! ginny@abodshelters.com
Get involved as an organization or individual through prayer, raising awareness or providing monetary support. We'd love to be able to share our Abōd Shelters® Story with your organization or group.  ginny@abodshelters.com
Follow us on social media, like, share and invite others. Abōd Shelters® values the relationships we have made and we're thankful for all of the support our friends have provided.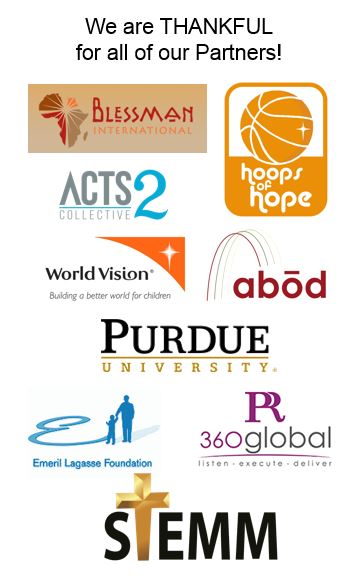 Abōd Shelters®, a registered 501©3 organization, are very interested in working with US and international organizations to leverage resources to provide homes to those in need.
You can get involved and help us build a sustainable Village of the Future using Abōd Shelters® through prayer, raising awareness and providing monetary support through partnership or become a Sponsor in 2017. For more information about ways to partner with us or becoming a sponsor, please mail your interest to ginny@abodshelters.com
---
There are many options for private individuals, companies, schools, churches and other organizations to partner with us and make a real difference. Check out how to Partner With Us or simply connect to Ginny Shiverdecker at ginny@abodshelters.com. You may also donate to build an Abōd.