Greetings Abōd® Shelters Friends!
'Tis the season. Magic happens when hearts align around a cause that rings true and demonstrates tangible impact on lives of those who suffer in severe poverty.
This magical feeling permeated the air at The Woods, Harbourside in Jupiter Thursday evening December 1st. Entrepreneurs, business owners and medical professionals gathered for the first Florida Valiant Wealth Africa Philanthropy Mixer for Abod Shelters Foundation. It thrilled me to see this event unfold.
Doug Vander Weide, Founder, Valiant Wealth and event sponsor, also Chairman of the Abod Shelters Foundation welcomed guests. He was joined by Paul Hassebroek, his partner. Doug's remarks explained the Foundation's purpose to be first to democratize housing for the worlds neediest populations, as over 4 billion people live in below poverty conditions, a worldwide epidemic.
I believe Abōd helped sparked the trendy tiny home movement. Its distinctive design based on the catenary arch, connects emotionally with people from all parts of the world.
The design is the result of a competition among architects of BSB Design, a nationally recognized firm of residential and commercial developments. The promise of this humanitarian design is Abōd Shelters: One House, One Family, One Day. The Abōd is delivered as a kit, is proven to be 50% cheaper, 80% faster to build and lasts 100% longer than traditional block housing.
The Abōd is quite versatile. Abōd Villages are established in partnership with NGO's in a growing number of Africa locations, like Zambia where Abōds are devoted to dormitories for high school age students and housing for teachers. In Ghana, Abōd homes are built for working families at a fish farm enterprise on Lake Volta, Asikuma. In Limpopo, Abōds serve as homes and classrooms for children, teachers and caretakers.
The 'Invitation Only' event was created to raise funds for an Abōd Medical Center Surgery and Birthing Centers (they refer to them as Theaters) in the heart of a Abōd Tiny Home Village planned in Mbuguni, Tanzania operated by Siouxland Tanzania Educational Medical Ministries (STEMM). The project breaks ground in January 2017. Guests generously donated after hearing the real stories of how Abōd projects positively impact children and women's lives. As Valiant Wealth Director of Development and Abōd Shelters Foundation's Executive Director offered this message: The birthing center is the first step toward saving lives as over 8,000 women die during child birth in Tanzania every year. By providing clinical settings and educating Maasai women to elevated midwifery practices, we can change the death rate and help prevent the high degree of cerebral palsy in children who are born in such poor conditions.  Watch for more on STEMM in next week's post as we head to Tanzania after Christmas.
To enhance the authentic African fun factor participants toured the highly sought after Tesla Models S and X with product specialists. Tesla is founded by South African born Elon Musk.
To help bring the Abōd Village concept to life, guests could try on the Oculus Rift Virtual Reality Glasses to see how Abōd can be designed as classrooms, homes or medical facilities.
The personal stories and activities inspired guests to participate in the African Silent Auction featuring artisan jewelry, South African wine, tribal paintings, a sculpture and one of a kind hand craft creations.
In addition, guests were offered the chance to win an Abōd Shelters African Adventure Trip for two with Ty Pennington of Extreme Makeover fame, for a once in a lifetime learn, build and safari experience. Pennington signed on as Goodwill Ambassador two years ago believing the cause meaningful and to help build awareness.
When I was asked if there would be a future event, I said, "Absolutely!" Our intent is to start a conversation around our mission and make connections to build a community of like-minded people who care passionately about providing women and children stability that comes with better living conditions. We received tremendous feedback on the quality of experience and raised funds to build and furnish a desperately needed Birthing Center. This enthusiastic response encourages us to create the next Valiant Philanthropy Experience for Abōd Shelters projects. Stay tuned for the next event announcement.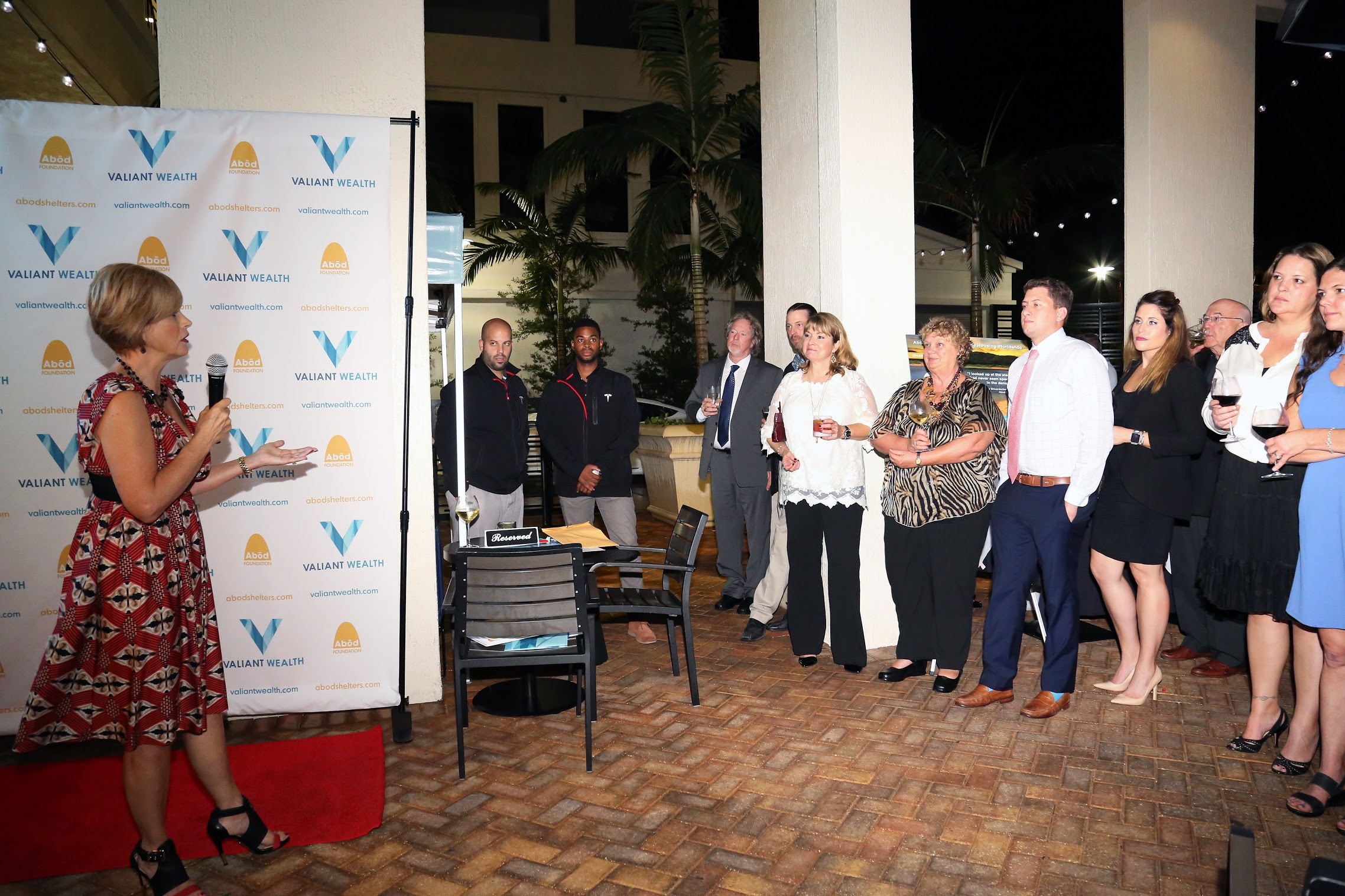 Ginny Shiverdecker, Executive Director Abod Shelters Foundation sharing story of building tiny homes in Africa with guests at The Woods, Harbourside in Jupiter.
To donate to build a Birthing Center or one of the homes for this project, visit our donation page at Abod Shelters. Any amount will be helpful.
There are many options for private individuals, companies, schools, churches and other organizations to partner with us and make a real difference. Check out how to Partner With Us or simply connect to Ginny Shiverdecker at ginny@abodshelters.com. You may also donate to build an Abōd.
In heartfelt service,
Ginny Shiverdecker
Executive Director
---