Greetings Abōd® Shelters Friends!
The cover photo was taken during our project of building 10 Abōd® Shelters in 10 days in Tanzania. Photo credit to Will Johnston, Tiny Homes Atlanta, who helped with the build.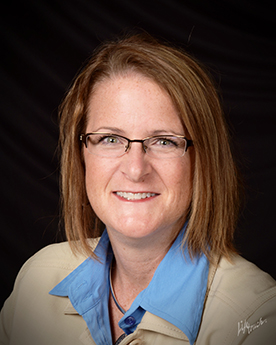 Michelle Rothfus, Project Coordinator Abōd® Shelters
Everyone has the right to a standard of living adequate for the health and well-being of himself and of his family. From dormitory housing in a remote area in Zambia to emergency housing to a family in South Africa to life saving birthing centers in Tanzania, Abod Shelters have made a difference for many in Africa. We started as an idea for those in need and now have a proven model that can be built anywhere in Africa. Check out some of what we have accomplished below and reach out to get involved!
Blessman International, South Africa
Many children are orphaned as a result of the Aids Epidemic. Blessman International and Abōd® Shelters collaborated to create an orphan community project using Abōd® Shelters. Since then several other projects have been completed;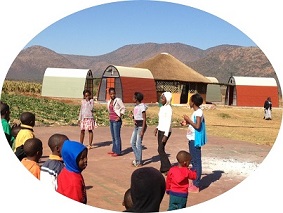 Five Abōd® Shelters were built as a community on Del Cramer Campus in 2013. One single mother, Annah, and her two-year old son, Danita, were the first to move in. Grandmothers, which they are referred to as "Grannies" in this village, moved into the homes next with children they were already caring for in addition to a few homeless children.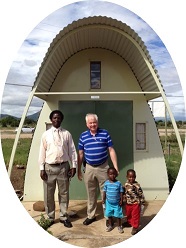 Blessman International conducts numerous sustainable outreach programs in Africa to aid those in need. Housing is one of our programs and using Abōd® Shelters has allowed us to provide a low cost housing solution to support our brothers and sisters in South Africa build a sustainable future."
Abōd® Shelters values Blessman International's long-time presence in South Africa and values its understanding of the areas environment and culture. Learn more about Blessman International and how they are serving in South Africa.
The Johnathan Sim Chikanta Secondary School was built and started in 2007. It is the only secondary school in a 70-mile area. The dormitories were soon overcrowded and teacher housing was desperately needed. The school's challenge was the time that it took to build housing as well as the expense.
Working with Hoops of Hope and World Vision, Abōd® Shelters were chosen because they were simple and quick to build and very affordable. The Abōd® Shelters manufacturers traveled from South Africa to the remote area of Twachiyanda, Zambia. The Abōd® Shelters are being used as girl's dormitories and several were built to be homes for teachers.
Childbirth is the number one cause of death in the village of Asikuma located in Ghana, Africa. This is one of the reasons Acts 2 Collective, a non-profit organization with work in Ghana, Chad, Central African Republic, Zambia, Africa and Des Moines, Iowa, has focused their outreach in this location. They have improved the lives of many in this village by providing health care, education, orphan care and athletics.
In March of 2015 Abōd® Shelters were built in this small village to create birthing and maternity centers with the goal of decreasing mother and baby mortality rates. Additional Abōd® Shelters were built to support the local fish farm. The purpose of these are to house workers and consultants of this project as well as create mobile storage for fish food and equipment.
"Building the Abod Shelters birthing center and providing a home for the maternity nurse has caused quite a stir. The nurse said all of her senior colleagues have requested to be transferred to this area to use these nicer facilities. In addition, providing a new home for our manager at the fish farm will make a huge impact on growing that business. People traveled from all over the area to see the Abod Shelters and how they were being used. I believe we've made quite an impact on Ghana with these new additions.
Siouxland Tanzania Educational Medical Ministries (STEMM)
STEMM was organized in 1997 to develop a relational bridge between Siouxland and Tanzania by addressing the priorities of spiritual growth, medical care, and educational opportunities. Over the past several years they have supported many Tanzanians in through education and medical programs. They've also branched out into health education and support for orphans.
Abōd Shelters® were built to provide homes for teachers, local workers and a birthing center for mothers to be.
Everyone has the right to a home, food, clothing, medical care, necessary social services and the right to security. While the NGO's that we partner with have specific target areas they work in along with established relationships and local resources in the area, there is typically a housing need of some sort where the traditional building structure is cost prohibited. Abōd Shelters® collaborates with NGO's on housing needs and provides the solution.
Abōd® Shelters Foundation can't succeed alone, which is why we work with Partners to provide a choice, not charity. We've shown what's possible but we have a long way to go. Abōd® Shelters, a registered 501©3 organization, are very interested in working with US and international organizations to leverage resources to provide homes to those in need.
If you know of an organization that we could work together with to make an even bigger difference, I'd be very grateful if you'd forward it and share it on Twitter or Facebook. Thank you!
Abōd® Shelters, a registered 501©3 organization, are very interested in working with US and international organizations to leverage resources to provide homes to those in need.
You can get involved and help us build a sustainable Village of the Future using Abōd® Shelters through prayer, raising awareness and providing monetary support through partnership or become a Sponsor. For more information about ways to partner with us or becoming a sponsor, please mail your interest to ginny@abodshelters.com You may also donate to build an Abōd®.
---