Greetings Abōd® Shelters Friends!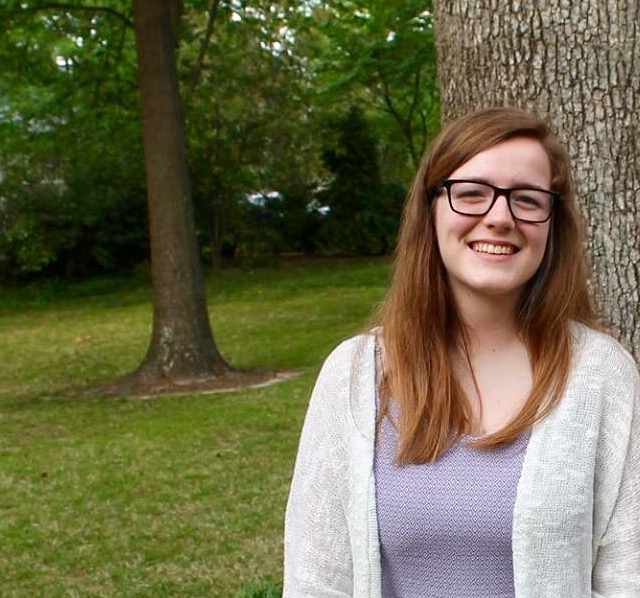 Elizabeth Dinneny, Summer Intern BSB Design, Inc.
LGBT (Lesbian, Gay, Bisexual, Transgender) individuals experience homelessness at a significantly higher percentage than non-LGBT individuals. They are often rejected by their families, discriminated against, and sometimes even prevented from entering shelters.
The Center for American Progress notes that, while the population of LGBT youth in the U.S. is between 5% and 7%, LGBT youth make up between 9% and 45% of youth experiencing homelessness, depending on the region. And these statistics reflect just those willing to identify themselves as LGBT.
LGBT youth experiencing homelessness typically have worse physical and mental health than non-LGBT youth, experience more violence, and are twice as likely to commit suicide. LGBT youth are also more likely to experience violence and discrimination on the street and in shelters. LGBT youth deserve safe environments that recognize their feelings and identities—we need to do better.
So, as we reach the end of this year's Pride Month, what can we do to help LBGT kids experiencing homelessness in our own communities?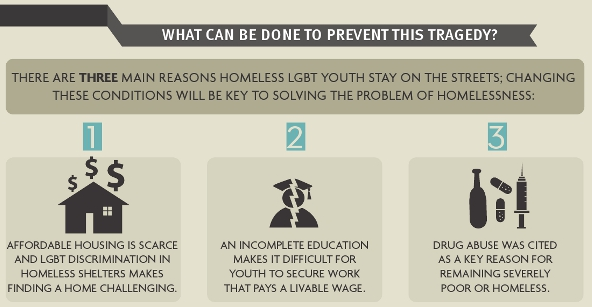 Know what your community is doing to combat LGBT homelessness. Shelters are too often a dangerous place for LGBT people, especially LGBT people of color, who frequently face homophobia and transphobia from others staying in shelters and even from the shelters themselves. Discouraged and sometimes barred from or kicked out of shelters, LGBT individuals are much more likely to live on the streets than non-LGBT individuals. We need shelters that are accepting of all people experiencing homelessness, regardless of sexual orientation or gender identity.
Protect LGBT students. 1 in 5 LGBT students report being harassed in school, and are two times less likely to finish high school than non-LGBT students. Bullying has been shown to be detrimental to mental health, negatively affect performance in the classroom, and discourage school attendance. Teachers, administrators, and parents have a responsibility to be students' allies, and should respond to bullying quickly and effectively. As conflict at home can be the norm for LGBT youth, school can be a safe place for youth to be themselves. Additionally, school is often a source of food and mental health services for youth experiencing poverty.
All students have the right to go to school in a positive atmosphere, and an affirming school environment can be invaluable to LGBT youth experiencing homelessness and poverty.
Develop an environment that is safe for LGBT youth. Shelter is a human right. Without shelter, children's psychological and emotional development suffer, and they are left more vulnerable to violence, drug and alcohol addiction, mental health problems, and suicide. We cannot improve the lives of LGBT youth experiencing homelessness without facing the fact that, despite being a minority, LGBT youth experience homelessness so unbelievably more than non-LGBT youth. It is our responsibility to LGBT youth to fix this problem. We must make the United States a place that is not complicit in discrimination against children to the point of homelessness. We must make the United States a place that believes children deserve real, affirming shelter.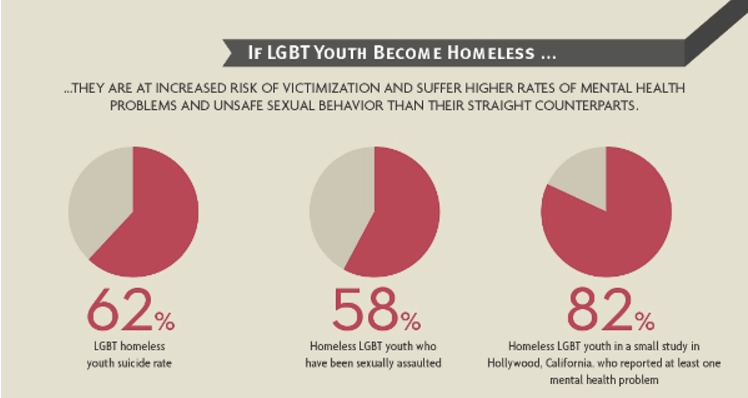 Advocate for non-discriminatory housing for LGBT people experiencing homelessness. Even in foster homes, LGBT youth are often treated differently and are sometimes abused by adults and kids in their foster homes. Transgender youth can and are often placed in homes according to a gender with which they do not identify, and are denied clothing and health care that is in line with their gender identities. Denying an LGBT child's identity puts them at a higher risk of mental health issues, suicide, and running away—more homelessness.
There are no laws protecting LGBT youth from discrimination in foster care, and, like shelters, many foster care systems don't provide sufficient LGBT education that would help adults be allies to LGBT youth. We need to do better.
Ultimately, we need to cultivate a society in which LGBT children do not feel threatened, and in which the systems that are meant to protect and house the homeless do not achieve the opposite.
We at Abōd Shelters® affirm that shelter is more than a roof over one's head. A safe home leads to better mental and physical health, better performance in school, privacy, increased likelihood of employment, safety from abuse, and being happier in a room of one's own. There is a variety of organizations dedicating to ending LGBT youth homelessness, and they have made strides toward that goal. Still, there is work to be done. Whether it's donating to non-discriminatory shelters, starting this conversation within our own communities, or helping Abōd Shelters® become a part of the solution to LGBT homelessness in the U.S., we all have a responsibility to fight this inequality in our own country.
For more information regarding LGBT youth homelessness and its solutions, you can visit "At the Intersections," an online resource created by the National LGBTW Task Force and the True Colors Fund. You can also view the resources provided by the National Coalition for the Homeless on their LGBT Homelessness page.
Read more about the history of Lesbian, Gay, Bisexual and Transgender Pride Month (LGBT Pride Month) on the Library of Congress site.
Elizabeth Dinneny is a junior at Rhodes College in Memphis, Tennessee and the Summer Intern at BSB Design's D.C. office. She is a section editor and the summer layout editor for The Bridge, a street newspaper in Memphis, TN. We are very grateful for Elizabeth stepping up to support Abōd Shelters® in making a difference and to bring awareness to important topics such as this one through our weekly blog.
Abōd® Shelters, a registered 501©3 organization, are very interested in working with US and international organizations to leverage resources to provide homes to those in need.
You can get involved and help us build a sustainable Village of the Future using Abōd® Shelters through prayer, raising awareness and providing monetary support through partnership or become a Sponsor. For more information about ways to partner with us or becoming a sponsor, please mail your interest to ginny@abodshelters.com
---
There are many options for private individuals, companies, schools, churches and other organizations to partner with us and make a real difference. Check out how to Partner With Us or simply connect to Ginny Shiverdecker at ginny@abodshelters.com. You may also donate to build an Abōd.