Greetings Abōd® Shelters Friends!
Thanks so much to the Abōd Shelters® build volunteers, STEMM team and Rob Marish at Keystone Pictures for all of the pictures!
Destination Tanzania marks the launch of our Abod Shelters 'Mission to Build Better Lives' Adventure Trip Experiences. In early January, a diverse group of volunteers with shared purpose, endured 24 hours of travel to partake in a unique opportunity to make a difference in the lives of the Maasai Tribe located in a remote village of Mbuguni.
A trip of this nature is close to my heart. An Adventure Travel offering to do good is something we felt could become a hallmark of involvement in the Abōd Shelters® Foundation, a catalyst for creating a special bond amongst our donor and volunteer community. I had the chance to witness this engagement unfold on this recent magical mission trip dedicated to building our first Abod Micro Village for our newest NGO partner, STEMM.org – a medical ministry with a 20-year record of credibility in the region.
As partners, we agreed to set an extreme challenge; to build 10 Abods in 10 days as a dramatic way to prove the Abōd Shelters® value proposition. Abōd homes can be built faster, better, cheaper than traditional block housing in Africa. This endeavor demonstrates, for NGO's interested in building structures, that by embracing the Abōd Shelters® way together we can deliver a more satisfying solution for all parties involved. It is a winning project for;
the NGO who desires to provide the shelters,
for the local tribe's families, women and children who are beneficiaries of the Abōds,
for the local leaders of the tribe and community where they can see tangible, lasting outcomes in service to their people and,
for our Abod Shelters Foundation leaders and volunteers who set out to provide this unique humanitarian design to help improve the living conditions of one third of the world's underserved population living under the poverty lines.
It is in striking the right balance of good outcomes for all we value most.
For volunteers who want to know more, our Abōd Shelters® Mission Adventure Trips are designed to deliver a memorable experience in three important ways:
Purposeful Platform: A scalable building project offering hands-on experience assembling Abōds while being part of a team constructing an entire micro village of Abōds.
Authentic Experience in Local Africa Culture: Not only seeing the beautiful landscape but also experiencing the tastes, arts, music and natural world in specific countries like Ghana, Tanzania, Zambia and areas of South Africa. It can include Safari's, Urban Market Shopping, Hunting Adventures or Exotic Surf Beach Excursions and more.
Right Atmosphere: Chances to forge new relationships and bonding with people from different walks of life who share common values. Because being a part of something needed that is long-lasting for someone else's benefit, opens hearts.
Some trips will take the experience to the next level as this one did. The excitement on this Abōd Shelters® 'Mission to Build Better Lives' Adventure Trip to Africa was enhanced by having Celebrity Ty Pennington (of Extreme Makeover fame) who is also our Goodwill Ambassador join our Team of Volunteers.
To us, Ty is a 'Prince of a Guy'! Not only did Ty and his manager help raise funds to build 5 of the homes in the Abōd Micro Village but Ty also joined us because he too wanted to have the hands-on experience of building Abōds and work side by side with our volunteers.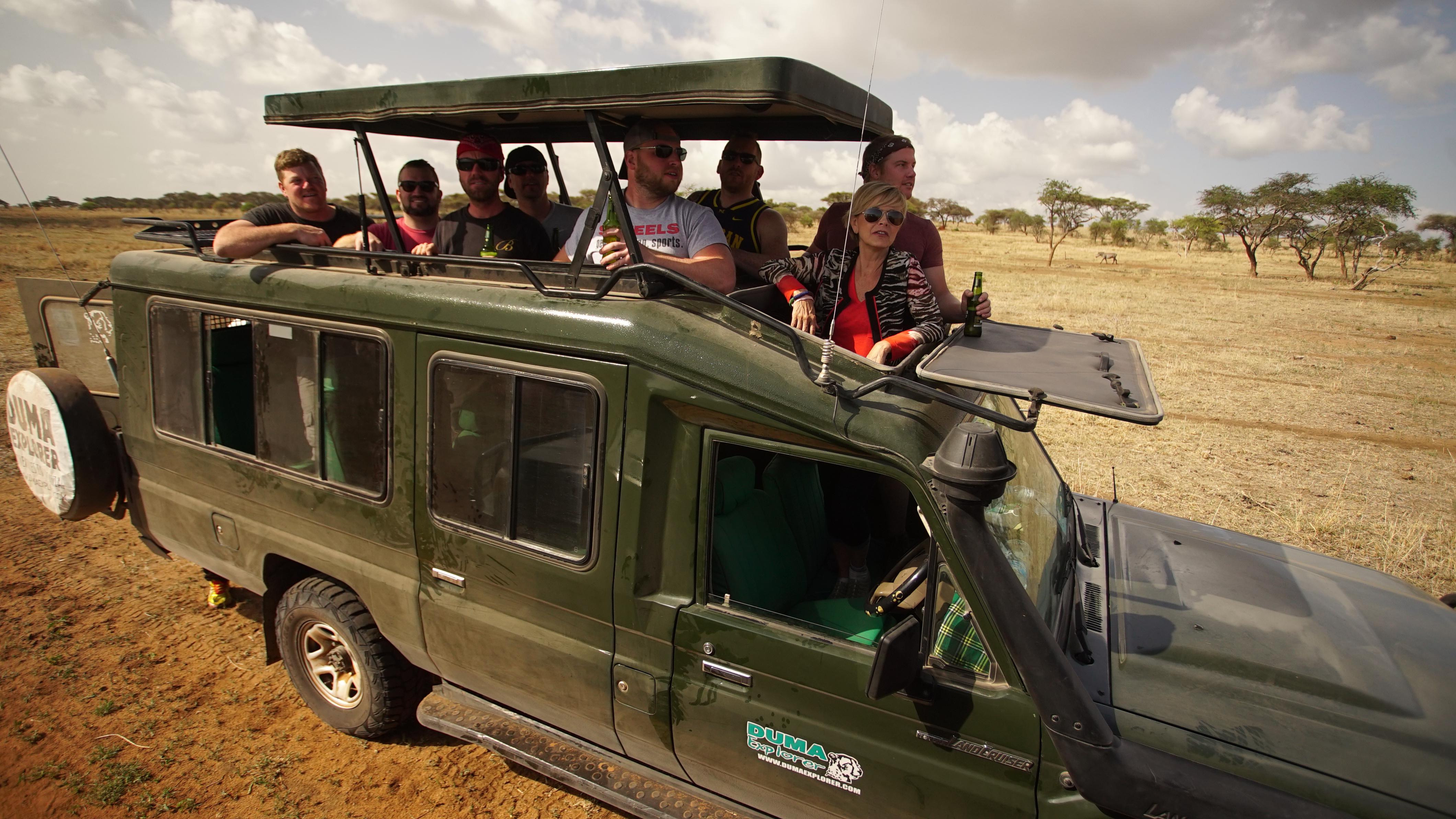 All work and no play does not feed the soul. Ty and our volunteers set building time line goals and when we met the team's self-imposed deadlines we balanced work time with play time. Indeed, the building goals were met so we headed out for an African Adventure Part 2: Safari Tanzania Style featuring Tarengeri Reserve. With the help of Duma Explorer escorting us and providing the entire safari tour, we trucked two Land Rovers one hour deep into the reserve for an overnight stay at Balloon Tent Camp where the next day's grand tour of the animal kingdom took place.
We were thrilled as we arrived into the park just before it closed. As we ventured deep into the reserve, animals that were migrating to watering holes came across our dirt trail thrilling us with their close-proximity. Darkness fell just as we arrived at the campgrounds.  Our camp hosts offered a very welcoming reception where we checked in and were given the camp tent accommodations and dinner plans for the night. Lovely, comfortable tents with all the right amenities were home for the night. As this is open range for the animals, we were escorted to and from our tents for dinner. We enjoyed cocktails and wine around a roaring campfire where we relaxed and gazed into the brilliantly twinkling night sky. The dinner bell chimed calling us to enjoy the well-appointed buffet dinner. Laughter abounded into the night as we exchanged stories and played games to get to know each other better. Midnight passed and we all decided the magic spell of the evening required sleep as we would be up at 6:30 am for breakfast and safari. Morning came quickly but it had been a restful night even if it was just for a few short hours.
Words cannot describe the brilliance of the 10-hour day we spent together among these rare and beautiful animals in their natural habitat. The landscape was as interesting and breath taking as the animals themselves. I was especially taken by the magnificence of the trees; the romantic shapes and their sheer scope and size are burned into my brain. It captured my heart with a lifetime of memories especially because I experienced it with my Abōd Community.
Everyone raved about our play day as another dimension of the trip. A quote from Will Johnston, Founder Tiny Home Atlanta Association who joined us on his first mission trip:
I am forever changed by this experience. I would have never guessed it could be so amazing and I would meet such interesting people I now calls friends for life.
What more can be said after that? Won't you consider joining us on one of our next trips? Contact me at ginny@abodshelters.com if you want to become part of our Abōd Community.
In heartfelt service,
Ginny Shiverdecker
Executive Director
---
There are many options for private individuals, companies, schools, churches and other organizations to partner with us and make a real difference. Check out how to Partner With Us or simply connect to Ginny Shiverdecker at ginny@abodshelters.com. You may also donate to build an Abōd.