Feature photo credit: Residents of the Mangueira favela watch the Olympics' opening-ceremony fireworks at Maracanã stadium in Rio de Janeiro, Brazil, on August 5, 2016. © 2016 Tércio Teixeira
Greetings Abōd® Shelters Friends!
This week was full of excitement and talk about the inspiring performances by our American athletes. It was gratifying to see their commitment, focus and determination rewarded with favorable results. They are all winners for just having the courage to make the trek to Rio de Janero in spite of the many dangers being reported and warnings not to. These athletes are heroes to many, not only because of their achievements but also for their character as demonstrated by how they carry themselves and represent the United States.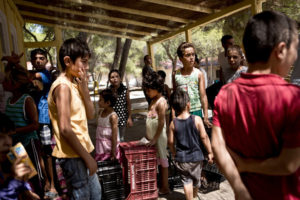 Syrian children waiting for lunch this month at a refugee camp southeast of Athens. Credit: Eirini Vourloumis for The New York Times
On the right was an article titled "A Priest's 17 Years of Lobbying for Mother Teresa's Sainthood."  It included a picture of the devoted Rev. Brian Kolodiejchuk, of the Missionaries of Charity Fathers – his order founded by Mother Teresa.
Coincidence or not, this trifecta of news coverage I discovered – from Olympic results to destitute circumstances to Mother Teresa – sparked me to wonder: Where are our heroes of true character today? The world is full of pain and suffering, yet we hear words of anger and divide from our leaders.
While the Rio Olympics reveals to the world the best the city has to offer, around the corner are deeply painful slums where children live in squalor. We lament the terrible conditions our athletes must compete in and forget the people of Rio don't get to leave these conditions behind after the Olympics are over.
Meanwhile, a few thousand miles away in Athens, Greece, refugees are now becoming lost in time. The women look after scores of children playing near heaps of garbage and swat flies from the faces of babies.
The Greek military has organized encampments in northern Greece for those fleeing Africa and the Middle East. But it has been reported that few of the resources promised from the European Union to assist asylum seekers have materialized, leaving Greek authorities to deal with the crisis with no funds to offer humanitarian relief.  Life for these refugees has moved into a desolate state as they wait to be processed with no direction in sight.
These are just a couple of examples of places where people are destitute today. Children are the most innocent victims of conflicts and conditions that should be dealt with, yet while we tune in daily to watch our Olympic heroes we often tune out the opportunities we each have to be a hero to people in need.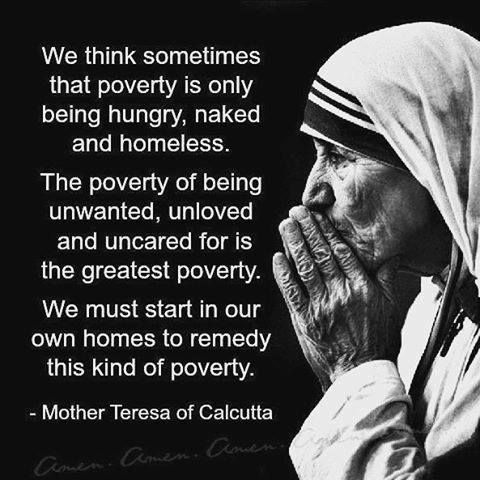 For many years my hero was Mother Teresa. I am one of those many people who looked up to her. I miss her positive influence on society.
It has been 19 years since her passing in 1997 at the age of 87. She founded the Missionaries of Charity in 1950 who serve the poor in over 133 countries. When she walked the earth, you could feel her humble spirit touch your heart by watching her perform her life's work, prayerfully tending to the poorest of the poor.
She sacrificed so much to give way to the higher calling. A voice within spoke to her about what was really important in life: Caring for humanity in its truest sense, one poor person at a time. Her acts and devotion thrust her into the media limelight, yet she retained her humility throughout. In times of a humanitarian crisis, her soft voice spoke louder than any politician. It helped us do the right thing and to rise to the occasion. She clearly said and did what was required to help people with their suffering no matter who they were or how difficult it was. She spoke for those without a voice.  To me, Mother Teresa exemplified 'true character.'
With the absence of a clear voice of leadership rising above the chaos, I ask myself, "What Would Mother Teresa Do?"  How would she guide us to care for these children? Would she be able to break down the walls that divide and open the gates for aid to flow?
With everything going on in the world today, we all have the opportunity to be someone's hero – a hero of true character by taking action.
Among the 124 Awards Mother Teresa Received:
Padmashree Award (from the President of India) August 1962
Pope John XXIII Peace Prize January 1971
John F. Kennedy International Award September 1971
Jawahalal Nehru Award for International Understanding November 1972
Templeton Prize for ``Progress in Religion`` April 1973
Nobel Peace Prize December 1979
Bharat Ratna (Jewel of India) March 1980
Order of Merit (from Queen Elizabeth) November 1983
Gold Medal of the Soviet Peace Committee August 1987
United States Congressional Gold Medal June 1997
Mother Teresa will formally be canonized by Pope Francis in Rome on September 4th, 2016. She was indeed a woman who is an icon of modern saintliness.
So my question to you is… who are our heroes of true character today?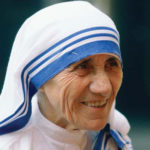 In heartfelt service,
Ginny Shiverdecker
Executive Director
---
How can you help?
Partner with us or provide an introduction to a potential partner. We can make a greater impact working together than separately. We have been able to build homes, dormitories, medical buildings and classrooms as a result of working together. Reach out to Abōd® Shelters so we can partner and make a difference together! partners@abodshelters.com
Get involved as an organization or individual through prayer, raising awareness or providing monetary support. We'd love to be able to share our Abōd® Shelters Story with your organization or group. ginny@abodshelters.com
Follow us on social media, like, share and invite others. Abōd® Shelters values the relationships we have made and we're thankful for all of the support our friends have provided.
There are many options for private individuals, companies, schools, churches and other organizations to partner with us and make a real difference. Check out how to Partner With Us or simply connect to Ginny Shiverdecker at ginny@abodshelters.com. You may also donate to build an Abōd.