Cover Photo Courtesy of the Des Moines Register: A school bus in Tanzania crashes into a ravine on May 6, killing 35 people. Sioux City missionaries helped rescue three surviving kids. (Photo: Special to the Register)
This is a rare and compelling story about our Partners at STEMM Medical Ministry. When you come to the end, if you feel moved to offer support please contact me at Ginny@abodshelters.com.
Greetings Abōd® Shelters Friends!
Many of you know we made a trip to Tanzania in January to build 10 Abod Shelters Partnering with Siouxland Tanzania Educational Medical Ministries (STEMM), operating in Mbuguni. It was an amazing experience building an Abod Micro Village with Ty Pennington, especially with a video film crew creating a level of excitement beyond our expectations. We made many close friendships with the STEMM leaders, Dr. Steve Meyer and wife Dana, along with Diane and Tim Bannister who direct the STEMM Campus activities.
The focus of the campus is to provide a safe and secure children's care home and school that is sustained by a farming enterprise. The campus is also base camp for the medical ministry where college students studying to be medical professionals join mission groups to practice in real third word settings. Under the guidance of Dr. Meyer, they administer all types of health care in remote rural areas within a one-hundred-mile radius of the campus.
The Meyer's have worked tirelessly to elevate the thinking of Tanzania's leaders, to open their hearts to sincere US involvement to help its children grow up healthy, educated and capable of creating good productive lives. Lives that can nurture and care for the Tanzania of the Future –  to help it and its people get out of cycle of poverty and begin to prosper so they can take care of their families.
In recent years, the government has taken a hard stance on increasing help of the US on the position the country needs to rely on itself. At this juncture however, there does not seem to be evidence of positive change based upon this stance.
The STEMM Team inclusive of Dr. Meyer, his wife Dana and Board of Directors along with a group of medical students returned to Tanzania in late April. Part of these trips include experiencing the beauty of a game reserve. On Saturday, May 6th, seven of the STEMM Team were traveling to safari near Karatu, Tanzania, but were very upset with themselves for being over one hour late. The reserves have strict closing rules and once the park gates are shut at sunset no one can gain access until the next morning. The team was upset because they didn't think they would have enough time to get through the park before the gates closed.
Personally looking back on life, many times when a delay in plans occur, I have come to realize 'The Devine' has other plans so we best just breathe deep and go with the flow. This proved to be true once again. The team, while upset about running late, were the third vehicle to come upon the most horrific school children bus accident in Tanzanian history.
Not thinking, we just acted on our training. "
Dr. Meyer told me this story: "Miraculously, we had put together a medical team only three weeks before the trip and three of them were in our vehicle. The two vehicles ahead of us left earlier and did not have any medically trained passengers. It was just our van. The good news is our team was there acting as Triage Coordinator and First Responders who miraculously pulled three children out of the carnage with a heartbeat. Not thinking, we just acted on our training.
Unfortunately, while three were saved… thirty- two seventh graders, two teachers and the bus driver were all killed in the crash. The scene was horrific to say the least."
Dr. Meyer went on to share what unfolded, "Our team loaded the three with obvious multiple fractures into a van which took them to the nearest hospital. They watched them disappear down the dirt road to what they hoped was competent resources at their destination. Amazingly, the next day our team saw a newspaper with the story of the terrible accident in it and asked the local newsboys where the children were. Once again, divine intervention was at play because the three children were taken to a hospital a few blocks away from the Game Reserve.
Understandably, the STEMM Team felt incredibly compelled to see the children particularly since one of them was for all intents and purposes dead on the scene. When they arrived at the hospital there was such tight security protecting the children, they had no hope to get in to see them.
Remarkably as they stood there wondering what to do, a well-dressed Tanzanian approached them who said he recognized them from their photos on YouTube and as Secretary of Health Minister he would be happy to take them to see the kids!"
Upon seeing the kids, Dr. Steve spoke with his STEMM Team and "it was decided to do everything in our power with God's help to get them to America for the best professional body restoration possible." Despite the Tanzanians government recent firm rhetoric that as a sovereign country they did not need Western assistance, incredibly they suddenly reversed this mandate. Not only did they agree to allow the children to travel to America but also agreed to work tirelessly attaining passports for the children and allowed their mothers to come with them. In addition, on the American front, despite the incredible financial challenges at Sioux City's Mercy Hospital, they amazingly agreed to fully underwrite all the medical care required for the three children.
The Tanzanian government agreement came only after an astonishingly arranged meeting between Dr. Meyer and the vice president of Tanzania. After 60 hours of urgent, non-stop lobbying and phone calls, the only option left was to pay the $300,000 for private air ambulance to get the children to the states quickly so they could get the reconstructive care needed to offer them a life worth living again.
As this was unfolding for Dr. Meyer, an orthopedic surgeon himself, was wrestling with the agonizing decision of departing with his team back to America or stay behind to care for the kids. But then the greatest miracle of all occurred. Dr. Steve took a phone call from Franklin Graham's Samaritan's Purse. Mr. Graham explained, as-a-result of lobbying from Congressman Steve King, he was willing to do all he could to transport these children back to America. And so, it was to be.
After a 40-plus hour flight across the ocean and a full week of series of surgeries these children are now on their way to physical, emotional and spiritual restoration. These children will now be a legacy of light and a living memorial to one East Africa's greatest school children's tragedies.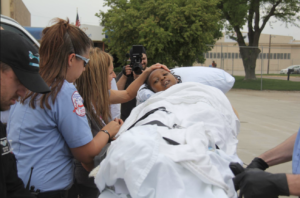 Divine intervention yields a change of heart as the result from the episodic situation is the entire heart set and dialogue in Tanzania has changed from unbearable grief to exhaling Joy and Hope. The witness of love for humanity and compassion for these children is a paradigm changing occurrence and an example for the world to see and understand. It raises us above our difference to celebrate our common ground – our humanity. This is a stellar example of how together we can honor life as a precious gift.
We wish the children of Tanzania a positive recovery and salute Dr. Meyer, wife Dana and all those at STEMM for the incredible work. Your friends at Abōd Shelters® will do all we can to help you through this recovery and to help at the campus when the kids return to Tanzania. Readers please come back for follow-up reports.
In heartfelt service,
Ginny Shiverdecker
Executive Director
---
There are many options for private individuals, companies, schools, churches and other organizations to partner with us and make a real difference. Check out how to Partner With Us or simply connect to Ginny Shiverdecker at ginny@abodshelters.com. You may also donate to build an Abōd.